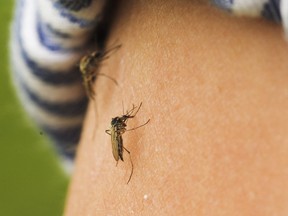 Content article
City managers are planning to install bat houses, expand monitoring of insect populations and conduct more public education as alternatives to Edmonton's canceled helicopter spraying program for mosquitoes.
Content article
City council voted in April to redirect the $ 507,000 typically spent on aerial spraying of mosquito larvicide toward creating a new strategy that relies on more natural control methods. An administration report says the funding will go to additional seasonal staff and monitoring-related costs, alternative biological control activities and enhanced communication.
The breakdown includes $ 31,040 for one-time costs in 2022, including the purchase of more mosquito traps, technology tablets for field work and additional houses for bats, which feed on mosquitoes.
Money will also be used for mapping of larvae sites around the city and filling in those sites where appropriate, along with increased surveillance for dragonflies, diving beetle and other predator development, the report says.
Content article
As well, the city will launch a promotional campaign, both to educate residents to get rid of standing water on their properties, and to "increase confidence" in the city's approach to local ecology and biodiversity.
The helicopter program targeted mosquito larvae using a product called Bti, which is a toxin produced by bacteria. The helicopter would fly low over the ground, dropping pieces of ground-up corncob coated with larvicide into standing temporary bodies of water – though not lakes, rivers or water reservoirs – where mosquitoes are developing into adulthood.
Ground spraying of larvicide by staff on foot will continue this year, though this will not include all the water bodies previously reached by helicopter.
Content article
Though Bti is approved by Health Canada, opponents of the aerial program have expressed concerns about its use, and have linked the decline of mosquito populations to the decline of natural predators such as birds, bats and dragonflies.
The report says city officials are considering other biological pest-control measures to maintain and increase existing natural mosquito enemies, or introduce new natural enemies. However, managers also indicate hesitancy about these approaches.
"Introduction of non-native species to an area or heavily augmenting existing populations of natural enemies can have unintended consequences such as eliminating native species or upsetting local population balances," the report says. "Available habitat is also a factor. Habitat restoration or enhancement can take many years and can be impeded by competing interests, especially in an urban environment. "
Content article
Even if more mosquito-eating wildlife returns to Edmonton, residents may still be awash in bugs, the report says.
"The reproductive strategy for mosquitoes is to overwhelm predators by numbers (especially with hatching waves / peaks), meaning that habitat creation which increases mosquito predators may not naturally reduce mosquito populations enough to be noticeable to humans."
The plan will be discussed by a council committee on June 27. Substantial rainfall over the past week is expected to produce a significant increase in mosquito populations in the near future.
ktaniguchi@postmedia.com