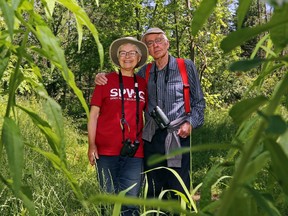 Content article
Conservation comes naturally to Elizabeth Churcher and George Thompson.
Content article
The Tweed residents are this year's winners of the Ontario Nature Education Award for their efforts to promote conservation and share their knowledge. It was one of 10 Ontario Nature awards presented this month.
The retired teachers are very active members of the Quinte Field Naturalists, local volunteers, and fascinated by nature.
Denice Wilkins, a fellow Quinte Field Naturalist and past Ontario Nature board member, presented on Monday a framed photo to the couple in an informal ceremony at Potter's Creek Conservation Area in Belleville.
She said it was for their efforts to "successfully help people understand the natural world," furthering conservation work.
In a later interview, Wilkins described both Churcher and Thomson as inspirations who are always willing to help.
"Not only are they such great teachers, committed dedicated naturalists extraordinaire, they do all kinds of citizen-science projects," she said.
"They are two of the kindest, most generous, most gentle, thoughtful people that I know.
"They are so committed to the environment," said Wilkins. "Nature needs all the help it can get right now."
Andy White led the naturalist group's effort to nominate Thomson and Churcher.
"They are the first ones I call when I have a question about a species identification or an interesting sighting," he said.
"And we don't know the answers," joked Thomson.
"So I call up Terry Sprague," White quipped. Sprague, a well-known Prince Edward County naturalist, was among Monday's crowd.
Content article
Thomson and Churcher said their many projects and dedication to furthering conservation education are simply extensions of their great love of nature. Neither senior expected provincial recognition.
"It's pretty overwhelming," said Thompson.
"It's very humbling to think what we have done is meaningful to others," added Churcher.
"Our goal was to support the natural world. In doing that we have touched the lives of so many people "who have developed their own appreciation for nature, she said.
Toronto native Thomson earned his bachelor's and master's degrees in botany before teaching science in Toronto and at Belleville Collegiate Institute and Vocational School and Quinte Secondary.
Churcher grew up on a farm east of Bancroft. She and Thomson donated 60 forested acres of her family farm to the Hastings Prince Edward Land Trust; it's now Churcher Woods, a nature reserve.
She earned an undergraduate degree in biology at Trent University and taught Grade 7/8 science for 17 years. She then became a principal and administrator and earned a master's and doctorate in education. She has worked in Bancroft, Belleville, Bayside and Marmora.
Immersed in nature throughout her life, Churcher said she does not view gardening as work, but as a place to enjoy learning.
"The garden is a place to study and experiment," she told Monday's dozen or so listeners. "I see a whole ecosystem before me."
The couple are in their seventh year of writing the "Naturally" column for The Tweed News. George is a past president of the Field Naturalists; as corresponding secretary, Churcher has penned advocacy letters.
Content article
They named their 100-acre farm outside Tweed Hepatica Hill after the flowers growing there. They grow much of their own food. They have also helped to start and tend a vegetable garden at St. Andrew's Presbyterian Church in Tweed. Food grown there is donated to a food bank; the pollinator garden feeds wildlife.
"We've been honored to be part of Quinte Field Naturalists," Thomson said. "All the expertise here is incredible."
He said nature "gives me perspective. It gives me so much calm.
"The human world is so intertwined with the natural world," said Thomson.
"It's restorative. It's relaxing. It literally doesn't give you life in many ways, "Churcher said.
The interview had just begun when Churcher spotted a bird in a nearby tree. Soon, both were watching through binoculars, talking excitedly and soon identifying their species.
"There's all kinds of life around us," Thomson said, confessing they feel rude when guests visit because they can't stop watching the wildlife.
But Churcher said being in tune with the natural world means they see it everywhere, even in the city.
"In the hustle and bustle, we're still connected."